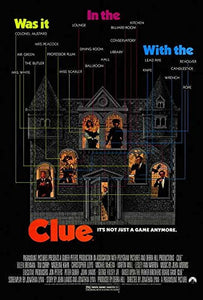 CLUE Monthly Minis! A New Monthly Subscription
Welcome to the Monthly Minis Club!  
Beginning in November 2023, you will receive 3 different minis (20g per mini, or larger depending on your selection!) every month for 8 months (November-June); minis will ship around the 20th of each month. At the end of these 8 months you will have 24 minis, which is what you need for most countdown/advent knitting patterns that are available. Rather than purchasing an advent/countdown set all at once from me, you'll be purchasing in monthly installments and getting a little bit of yarn joy every month!
With the purchase of this listing you are paying for the first installment (November) of this 8 month club. You will be enrolled at that point in this monthly subscription and will receive an invoice every month through PayPal on the 1st of each month for the next months shipment (first invoice in November, final invoice in May)

The inspiration for this option of Monthly Minis is CLUE! - WHODUNNIT???
Was it Mrs. White in the Library with a rope? Colonel Mustard in the Billiards Room with a candlestick?
Each month you will receive 3 colors in the mail of one possible solution to the murder; and since I can count bullets better than the butler, I know that the suspects plus the rooms plus the weapons don't quite add up to 24, so expect a few red herrings to show up in the mix…  
For this club, the suspects will be bold, rich, lush solid and semisolid colors, the weapons will be essentially the neutrals and contrasts of the color palette, and the rooms will be speckled or variegated or mottled colors.
Yarn Options:
20g options:
Charles Merino, John Merino, Anais Silk Merino, Oscar Sparkle, William Merino DK
25g options:
BUGGA Fingering, BUGGA Sport, BUGGA DK
50g options:
Charles Merino, William Merino, Oscar Sparkle, William Merino DK
2oz options:
BUGGA Fingering, BUGGA Sport, BUGGA
100g options:
Charles Merino, John Merino, Anais Silk Merino, Oscar Sparkle, William Merino, William Merino DK
4oz. Options:
BUGGA Fingering, BUGGA Sport, BUGGA DK
Yarn base descriptions:
Charles Merino: Fingering weight, 2 ply textured twist; 80% sw merino, 20% nylon; 80yds/20g, 200 yds/50g, 400 yds/100g
John Merino: Fingering weight, 4 ply smooth texture; 100% sw merino; 87 yds/20g, 435 yds/100g
Anais Silk Merino: Fingering weight, 2 ply textured twist; 80% sw merino, 20% silk; 80 yds/20g, 400 yds/100g
Oscar Sparkle: Fingering weight, 2 ply textured twist; 75% sw merino, 20% nylon, 5% sparkle; 87 yds/20g, 217 yds/50g, 435 yds/100g
William Merino: Fingering Weight, 4 ply smooth texture; 75% sw merino, 25% nylon; 230 yds/50g, 460 yds/100g
William Merino DK: DK weight, 4 ply smooth texture; 75% sw merino, 25% nylon; 49 yds/20g, 122 yds/50g, 245 yds/100g
Bugga Fingering: NEW!!! Fingering weight smoothly plied yarn; 70% sw merino, 20% cashmere, 10% nylon; 92 yds/25g, 210 yds/2oz, 420yds/4oz
Bugga Sport: Sport weight smoothly plied yarn; 70% sw merino, 20% cashmere, 10% nylon; 80yds/25g, 182 yds/2oz, 365 yds/4oz
Bugga DK: DK weight smoothly plied yarn; 70% sw merino, 20% cashmere, 10% nylon; 54yds/25g, 125 yds/2oz, 250 yds/4oz